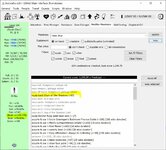 I am maximizing on just meat drop. I always thought the negative number in parens meant that the change was going to lower something. Indeed, when I did execute the suggestion Meat Drop did get lower.
My knee jerk reaction is to call this another unintended feature but it may be that, with the GUI and other changes, there is some setting that is not to my liking.
This is a general question about why for a simple maximization it is recommending something it knows gives a suboptimal result.
@MCroft
Is there a bug behind the identical scores?