Psychose-a-Matic
The psychoanalytic jars dropped by the Angry Jung Man add a
lot
of fun content to KoL. Each jar is a flavorful mini-quest with a sweet sword for a reward. It can be tedious, however, to manage everything -- the jars are in your inventory, the NPCs are all over the kingdom, the couch is in your campground, and all the quest information you might want to seek out is on the Wiki. When I was setting out to experience all the jar content for myself, I immediately realized a script which organized this information and put it all in one place would be a big click-reducing asset to completing the jars. Hence, this script.
What does it do?
Consider the following 1,000 words: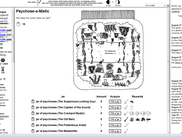 Essentially, when you load the page by selecting it from the relay menu, it provides a table of all possible jars (clicking the jar image will Wiki it), shows how many you have, and gives you a button to fill one of your empty jars with the given NPC's psychoses. If you lack an empty jar or the jar is otherwise unavailable, you will instead be given a link to buy the jar. Lastly, the major rewards from each jar are listed, dimmed out if you lack them, so you can see at a glance which jars you have left to complete (again, clicking the image will Wiki the item).
If you haven't used a jar yet today, a
[use]
link will be provided after the name of any jar you have. After using a jar, the links will disappear and the jar zone will appear above the table (as in the screenshot), and you can click it to adventure there just as you would when viewing it from the couch at your campsite.
Also: each time you load the page, a new quote about mental health (or the lack thereof) will appear beneath the page title. Some I just made up as good catchphrases for this script, some are from famous people, and some are from other people on this very forum! I dare you not to open the script to read them all! Bwahaha
Installation
To install, simply type the following into the CLI:
Code:
svn checkout https://svn.code.sf.net/p/psychoseamatic/code/
This will install a single file in your relay directory:
relay_Psychose-a-Matic.ash
. This script also relies on
ZLib
and
CLI Links
, so it will automatically install those as well if you lack them.
I think you'll find that it's a mad, mad, mad, mad, mad, mad world out there, comparable in many ways to a land where tacos evolved from cats. Enjoy!
bats bats bats bats abts bat bsta batasbtasbttsbatsbstatbstbatbastastbtstbsatbtbatsbastabtsbtatbattttttbbbbbaattttttsssssssssssss
Last edited: