BetterTrainer
is a relay override script that empowers your guild's skill trainer, as well as your Avatar of Boris skill tree. It shows skills in a 2-column table and highlights those your already bought and/or permed. If you hover your mouse over a skill, it will show the description as a tooltip.
This script was inspired by rlbond86's
Improved Guild Trainer
.
To install, enter in the gCLI:
Code:
svn checkout https://github.com/pastelmind/BetterTrainer/trunk/release
This script is very young and may have bugs. If something goes wrong, you can click on the "View the original skill table" to use the vanilla skill table.
Here's a preview of what the script does: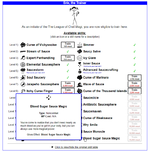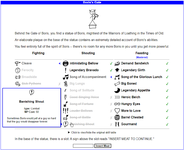 Note: This relay override script does not support Internet Explorer.
History
2020-12-10: Added support for Avatar of Boris
Last edited: