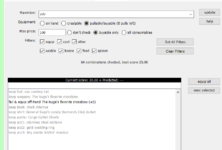 Does it think I have two crossbows? Are there restrictions on the passive skill that lets you wield two weapons that KoLmafia is not observing?
(I think there was a batarang equipped offhand which has no +adv contribution).
I'm trying to get a sense on whether this is yet another opportunity for maximizer improvement or whether there is a mechanic/restriction that KoLmafia doesn't quite understand or whether it is me that lacks understanding.