Very much adjacent to the March IOTM (but accessible without it), a new free (does not take a turn) NC has been added to Shadow Rifts. It is choice 1499.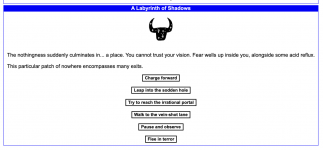 There's a few things of note about this choice. It occurs every 11 adventures in a Shadow Rift. The first and fifth options (and simply refreshing the page) give you a "new" version of this adventure, and every time it loads, it has semi randomized text and a random image from one of the monsters in shadow rifts. Option 6 exits the choice. It can be forced by using something like sneakisol or parka spikes, which resets the counter towards the next occurrence.
Now where things get weird: options 2-4's outcomes are semi-randomized on page load as well, and based on keywords in the options' text they will have different outcomes. Here's an excerpt of a writeup from Kataran:
The result of choices A, B and C depend on the theme of the button
Fire
: 90-100 Muscle Substats
Math
: 90-100 Mysticality Substats
Water
: 90-100 Moxie Substats
Time
: Effect extension (+3 turns to 3 random effects)
Blood
:
Shadow's Heart
Maximum HP +300% /desc_effect.php?whicheffect=ae985c01dcfdcbdcdd0c324716ff2c6d
Cold
:
Shadow's Chill
Maximum MP +300% /desc_effect.php?whicheffect=7164c53309fdee5c3e7367e22d0ba9be
Ghost
:
Shadow's Thickness
Superhuman Spooky Resistance (+5) Superhuman Hot Resistance (+5) Superhuman Sleaze Resistance (+5) /desc_effect.php?whicheffect=cec0a45b03817e4e0b9a4fa6833c556a
And some spading from Nasurte and Tobyous turned up these descriptors in options 2-4:
Fire:
steaming, scalded, scalding, flame-choked, blazing, ember-lit, scorching, blistering, sizzling, charred, white-hot
Math:
Pythagorean, exponential, fractional, parabolic, sinusoidal, monomial, boolean, integer, hyperbolic, Riemannian, irrational, geometric, fractal, ordinal, logarithmic, angular, Cartesian, prime, multiplicative, Fibonacci, self-referential, trigonometric, cubic, vector
Water:
humid, dripping, water-logged, runny, soaked, drowning, watery, aqueous, sodden, moist, foggy, damp
Time:
rickety, ramshackle, old, broken-down, ancient, derelict, shabby, crumbling, ruined, decaying, antique, dilapidated, unkempt
Blood:
bloodstained, vein-shot, blood-soaked, blood-drenched, crimson, pulsing, sanguine, veiny, bloody, hematic, bleeding
Cold:
frost-rimed, icy, iced-over, frozen, freezing, frosty, spectral, cold-numbed, snow-covered, chilly, hyperborean, wintry, arctic, frigid
Ghost:
ghostly, insubstantial, diaphanous, translucent, see-through, gossamer, half-there, nearly invisible, wispy, ephemeral
It's worth noting here that there's two interactions with March's IOTM. Firstly, the new IOTM can cause a boss monster to overwrite this choice adventure, operating on the same counter and appearing if sneakisol et al. are used. Secondly, the new IOTM can replace options 2-4 with a new option type that drops a relevant quest item. I'm pretty sure these aren't perfectly spaded interactions yet, and would probably be covered in a writeup for the new IOTM.
Attached are a few examples of the choice adventure's html.
Last edited: