Version: KoLmafia r25775.
Unfortunately the "max" term is too short to be included in searches, so I apologise in advance if this is already known and not a bug/an algorithm limitation/me not understanding the keyword's usage.
The bug (?):
With the "max" keyword, any modifiers that would excess the value wrongly report their value as fitting within the limit and at least in my case example overtake other modifiers that would actually fit inside the parameters.
For instance, attempting to set "ml 5 max", will suggest backupcamera ml (+5), even though its real actual value is far above that, misreporting itself as +5, while also not recommending any of the lesser modifiers (items with actual +5 ml).
Full options (all ml modifiers):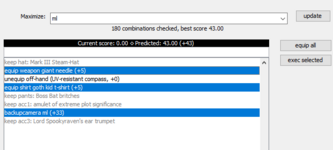 Attempting various max monster levels: backup camera misreports its real value to fit inside.


Further odd behaviour: going to a ml just above the backup camera's real monster level, recommends another +5 ml item, then weirdly adds up 33 + 5 = 34.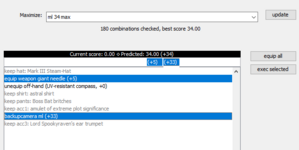 Expected behavior: in this scenario, the items that fit within the limits being picked first and not the camera if it would exceed the max value, as well as in general the modifiers reporting their actual value.
At first I considered it to be a bug with the backup camera, but this behavior seems to apply to all items/modifiers from very brief checking.