Help page says

So I set my options thus: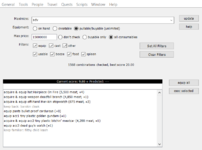 15 million is about 14 million higher than the current mall price of the 5th cheapest gingerbeard and yet it doesn't show up there.
No matter what combination of the radio buttons I set, it never shows up and clearly the max price field is neither blank, nor 0.
I even did a mall search for gingerbeard to ensure it was cached in this session (so definitely in that 7 day period it mentions) and tried again, no luck. I set maximizerCurrentMallPrices to true, same outcome.