This bug has been present for several versions but has been reproduced in rev20796.
I quite like the look of old Windows and the update for a more compact familiar UI was a welcome one, however in the Windows Classic L&F the icons and text are all offset. The familiar icon on the main window is correctly rendered.
All of the familiar icons are pushed to the right and are cut off which is unique to Windows Classic L&F. This happens whenever left-clicking the current familiar icon in mafia. The familiar lists/filters initially come up looking fine, but whenever moused over will be offset to the right as well. This offset of the lists/filters seems to occur in more L&Fs than just Windows Classic. The menu is perfectly functional and this is purely a visual error.
Steps to reproduce:
1. Change mafia to Windows Classic Java L&F
2. Click the current familiar icon on the GUI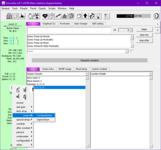 If this is a failure on my part, I apologize. I know that Java GUI is fiddly in the best of cases.
Last edited: