Display3
is a relay override for your display case page (
displaycollection.php
). It converts the single-column display case to a manageable, responsive three-column UI, just like your inventory. This also changes other people's display cases, too. No more scrolling hell!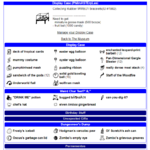 This relay script does not affect the Display Case management pages (
managecollection.php
,
managecollectionshelves.php
). You can use it with other Display Case manager scripts, such as the
Display Case organizer
.
Installation
Enter the following in the gCLI:
Code:
svn checkout https://github.com/Loathing-Associates-Scripting-Society/display3/branches/release
P.S. I tested this against HolderOfSecrets's (#216194) display case. Check it out, but it will be slow.
Last edited: